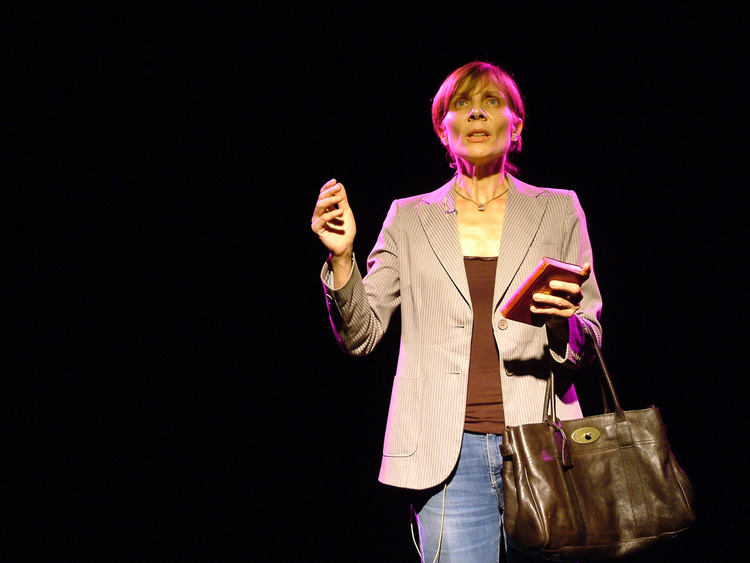 ---
If you would like to contact Melanie about a project, or if you are interested in individual voice coaching or group voice workshops, please click here.
Vocalist Melanie Pappenheim works internationally as a live performer and recording artist. Her voice can be heard on soundtracks for film, television and radio. She also performs for theatre, opera, dance and the live concert stage. Pappenheim is renowned for her interpretations of contemporary scores — work that encompasses structured extemporisation, new vocal techniques and movement. She's particularly drawn to projects where music meets visual arts.

Melanie's voice can be heard on soundtracks for feature films The Garden (Jarman, 1990), Eyes Wide Shut (Kubrick, 1999) and Gangs of New York (Scorsese, 2002) and in series Doctor Who and The Crown. She's performed live for DV8 Physical Theatre, Lumiere & Son, Graeme Miller and Clod Ensemble at venues including the National Theatre, ENO, Shakespeare's Globe, Royal Opera House, Snape Maltings, ICA and the Barbican, London.

Melanie is currently working with Brian Eno, singing his music around Europe in Ships, a live show with the Baltic Sea Philharmonic. In demand as an interpreter of new works, she's also collaborated with composers Gavin Bryars, Graham Fitkin, Orlando Gough, Damon Albarn, Sarah Angliss and her long-term associate Jocelyn Pook, singing original lyrics by playwright Caryl Churchill and poet Robert MacFarlane.

Melanie sang the world premiere of Pook's acclaimed trilogy exploring mental health: Hearing Voices, Anxiety Fanfare and Hysteria: A Song Cycle for Singer and Psychiatrist. In 2018, she appeared in Pook's epic production of Alice Oswald's poem Memorial, commemorating the 1914-18 war. In 2018, she recorded and toured Colin Riley's In Place, a song cycle exploring the natural world and our sense of place in the British Isles (with words by Robert MacFarlane and other poets). In the summer of 2023 she appeared in Giant, Sarah Angliss' critically acclaimed electroacoustic opera which opened the Aldeburgh Festival. Giant will be in the Linbury Theatre, Royal Opera House, in March 2024.

Melanie also composes her own vocal works including Moth Music, for the BBC Singers, the palendromic Man A Plan A Canal Panama for the ICA and Still Ringing, a piece exploring the ancient Suffolk town of Dunwich - where legend has it there are sixty churches under the sea. In 1999 she joined The Shout, an ensemble of singers from diverse vocal backgrounds. The group performs Orlando Gough's music in theatres, art galleries, car parks and on riverboats around the world, collaborating with many local choirs on their travels. Melanie's two hander Flam with fellow Shout singer Rebecca Askew creates new unaccompanied vocal works for small spaces. Commissions include Jilted for the Bath Literary Festival, Falling for the MK Gallery, a perambulatory piece for Forbury Gardens in Reading and several pieces for the architects' choir Musarc.

Between her own vocal performances, Melanie enjoys leading workshops for participants of all skill levels and backgrounds - from elders in the community to professional dancers who wish to use voice in their work. In 2015, she was invited by the arts charity Rosetta Life to devise work with people who have experienced stroke. The resulting Stroke Odysseys programme takes place in community and hospital settings around the UK. During the pandemic she co-created I Look for the Think, a 12 minute opera featuring 60 stroke survivors, their carers and members of the Garsington Opera amateur chorus. It was live streamed on World Opera Day.

Melanie enjoys working with adventurous composers, dancers, directors and others who are open to collaborating on new music, new approaches and new settings for the human voice.